How to get to Philippine Fun Divers
Update: Panglao now has and international airport.
Once you arrive in Manila (Manila has three International terminals managed by the Manila International Airports Authority). The Airline you will take to fly to Manila will have assigned terminals. Cebu Pacific at Terminal 3; Philippine Airlines and Air Philippines at Terminal 2, also sometimes called the Centennial Terminal; and all other international Airlines at Terminal 1 such as Cathay Pacific, KLM, Singapore Airlines, Thai Airlines, Eva Air, Emirates, Etihad, Lufthansa, etc.) via an international flight, there are available connecting flights directly to Tagbilaran City, Bohol. Philippine Airlines and Airphilexpress (Terminal 2) Cebu Pacific (Terminal 3) and Air Asia (Terminal 4, Manila Old Domestic Airport) will fly the distance in 1 hour and 15 minutes. All three airlines service this route several times a day using the new Airbuses A319 and A320. You may check the following websites for details: www.philippineairlines.com; www.airphilexpress.com; www.cebupacific.com; and www.airasia.com
You may also get a listing of the domestic flight schedules under the website link FLIGHT SCHEDULES.
If you arrive in Cebu (Mactan International Airport) via an international flight or domestic flight from Manila (1 hour travel time from Manila to Mactan), you need to take a land trip from the airport to the Cebu Port Authority (30 minutes drive.  Our driver will await you at the airport arrival area with a sign board with our company name and your name on it) to take a fast craft to Tagbilaran City. The Port Terminal shall differ depending on the shipping line you will take.
There are 3 different fast ferries (Weesam Express, 2Go and Oceanjet) plying the Cebu City port to Tagbilaran City port route. The travel time is 1 hour and 45 minutes up to 2 hours.
Weesam and 2Go are located at Cebu City PIER 4 and Oceanjet at Cebu City PIER 1.
Please find the listing of ferry schedules under the website link FERRY SCHEDULES.
Once you arrive in Tagbilaran City, we will pick you up from the pier or airport. Our driver will await you at the arrival area with a sign which has our company name and your name written on it.
After a car ride of approximately 30 minutes you will finally be at our resort/dive center.
Let the Fun begin!
Flight Schedules

Click on Flight Schedules to enlarge
Ferry Schedules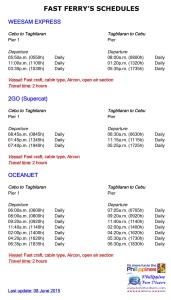 Click on Ferry Schedules to enlarge
And if you are totally lost, here are Philippine Fun Divers GPS coordinates

Click on GPS Coordinates pic to enlarge